How to add or change the CMS that Camayak publishes to
Camayak allows you to publish your approved assignments to other platforms, whether it's through our WordPress integration, content API or existing connection to your proprietary CMS. If you're not sure which ones are available to you, get in touch with us at support@camayak.com. 
Moving your existing site to a new host. If you're not changing CMS but want to move the publishing destination that you're publishing to from Camayak to a new host, here are the steps you should take to make sure things go smoothly.
Moving from one publishing system to another. If you've decided to change the platform or CMS that you publish content to from one system to another (e.g. from Drupal to WordPress) , you have some decisions to make over how much of your existing, published content you want to appear in your new system. That's a conversation to have with your IT staff and/or new CMS provider, to confirm any data migrations that you need to happen.
Once you've decided on your new system, you'll need an administrator on your account to create a new publishing destination in Camayak, so your colleagues can select assignments to be approved for that platform and, if applicable, publish them directly to your new platform or CMS.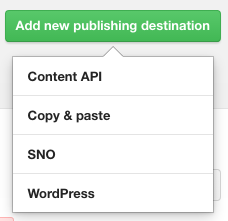 If you are keeping your old system as a publishing destination, there's no need to remove it in Camayak. If it's now redundant, you can get in touch with us and we'll remove it for you.